India's diverse landscape is home to a rich tapestry of wildlife, from majestic tigers to exotic birds and elusive leopards. For nature enthusiasts and wildlife lovers, experiencing these creatures up close in their natural habitat is a dream come true. To make this dream even more enchanting, India offers a range of luxury wildlife resorts that provide not only a comfortable stay but also immersive wildlife experiences. In this blog, we'll explore the top 10 luxury wildlife resorts in India, where you can indulge in opulence while getting closer to nature.
Check out and visit the Top 10 Luxury Wildlife Resorts in India😍 

1. The Oberoi Vanyavilas, Ranthambore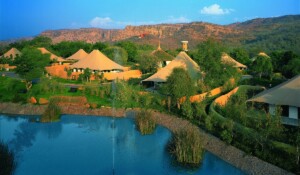 The Oberoi Vanyavilas is a super luxurious resort located in the outskirts of Ranthambore. One can enjoy and experience its top-class services with the calm vibes amidst nature and a beautiful view of mud houses of the villages. It has private walled gardens to feel just-at-home with no one interrupting your stay.
2. Baghvan, A Taj Safari, Madhya Pradesh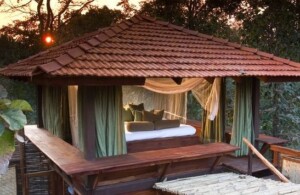 Located on the banks of a nullah (dry river bed) in Pench National Park, offers twelve individual bungalow-inspired suites each with small verandas, indoor and outdoor showers, and a Machan (a covered rooftop watchtower). This enchanting lodge also has a relaxing outdoor sitting area and a pool. One of India's lesser known parks, Pench is full of ravishing landscapes with lots of open habitats, allowing for excellent wildlife viewing.
3. Aman-I-Khas Resort, Ranthambore
Situated near Ranthambore National Park, this resort is one of the best wildlife luxury resorts in India. One can experience the very best version of royal camping in this luxurious resort with luxe tents, and delicious meals freshly prepared with organic vegetables grown on the camp premises.
It offers you the best services, highlighting the local culture.
4. The Riverview Retreat, Jim Corbett
Set amidst the serene atmosphere, Corbett River View resort is an ideal wildlife holiday destination. It is cozily nestled in the woods, with a luxurious ambience and tranquil surroundings, this resort offers you plenty of adventures away from the world giving you a taste of paradise on Earth.
5. Evolve Back, Coorg
Located near the Nagarhole National Park in Karnataka, this is the place one must visit for an adventurous vacation. The design of the resort is inspired by the tribal villages and has modern amenities to get a perfect blend of the traditional and contemporary world. In this resort one can experience top-class multi-cuisine restaurants along the riverside and exquisite boat dining.
6. Spice Village, Kerala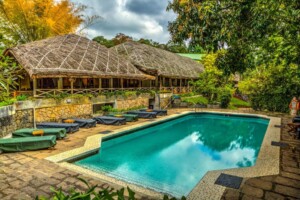 Located near the Periyar National Park, Spice Village gives a a luxurious, comfortable stay in the lap of nature with amazing food and a million memories. One can enjoy the aroma of spices all over the place that gives a true feeling of living in a 'spice village.'
7. The Windflower Tusker Trails, Bandipur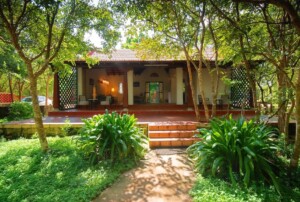 The Windflower Tusker Trail resort is one of the best resorts in forest located near the Bandipur National Park. The resort has a carefree ambience where one can enjoy barbecue evenings and go trekking. The forest view through glass skylights in the shower gives a feeling of being in the midst of a jungle.
8. TreeHouse Hideaway Resort, Madhya Pradesh
Situated in Bandhavgarh National Park, the TreeHouse Hideaway Resort offers specially crafted treehouses with special arrangements and A-class facilities that gives visitors the best experience. One can enjoy the feeling of being in the countryside, away from the bustling and crowded city life here.
9. IORA The Retreat, Assam
Located near the Kaziranga National Park, this luxury resort provides an ideal mix of value, comfort and convenience.
It has it a family-friendly setting with an array of amenities designed for tourists.
10. Vanaashrya- The Camping Resort, Rajashthan
Situated in Sariska Tiger Reserve, Vanaashrya is the perfect place to experience Alwar and its surroundings.  It is a serene abode surrounded by a lake and lush green surroundings. One can enjoy easy access to all that the lively city of Alwar has to offer from this resort.
We also offer digital marketing services. To increase sales online or offline, visit: https://aimglobal.mobi
Don't forget to like and subscribe to our channel 👍🏻https://www.youtube.com/channel/UCLZH…
Connect With Us On :
📸Instagram: https://instagram.com/united_netizens…
🌐Facebook: https://www.facebook.com/UnitedNetizens
🎯Pinterest: https://in.pinterest.com/unitednetize….